The Ballz are Lava!
The Ballz are Lava!
Published on Jul 15th, 2017
Last updated on Jul 28th, 2017
354
THE BALLZ ARE LAVA!
"Nobody knows why - it's just always been this way. Our chance of survival is to absorb all the Green Orbs floating around, while avoiding certain death by touching the Lava - all before the time runs out!"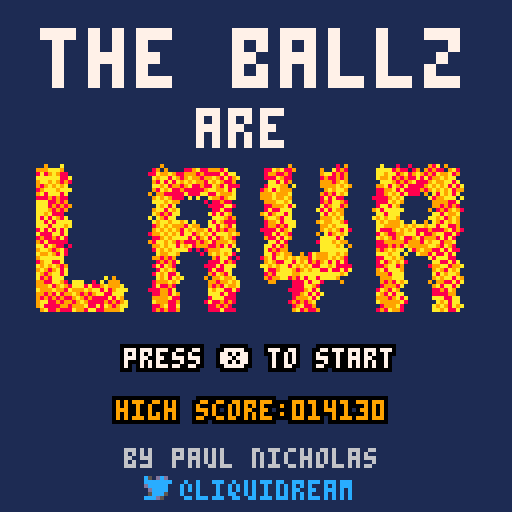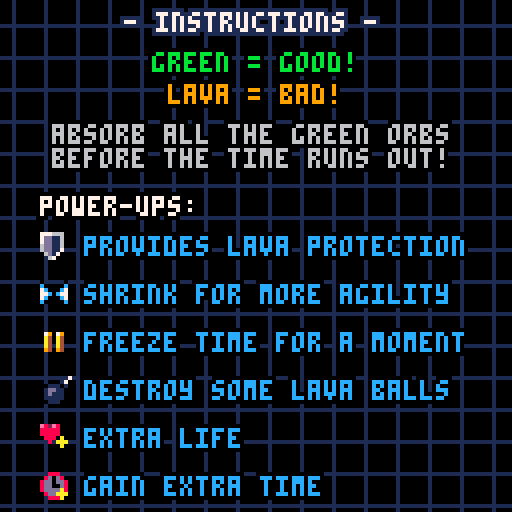 This was my entry to the #FC_JAM, where the theme was "Union".
Please Click here to play & consider voting for it! ;o)
(unlike the BBS, this version can hide the mouse cursor!)

Mouse = Move player (Recommended)CONTROLS:
FEATURES:
Endless number of levels*

(Theoretically - though probably impossible after a while!)

Each level is "consistently random" - learn the best way to win!
6x Power-Ups to help you throughout the game
Timed levels - Race the clock!
High Score
Familiar-sounding thumping music... *cough*
THANKS & ATTRIBUTION:
The following PICO-8 posts & resources were very helpful in the making of this game: