Mai-Chan's Sweet Buns
Mai-Chan's Sweet Buns is a cute puzzle game about pastries. Our goal is to help Mai-Chan serve her sweet buns to customers at her bakery.
This game was created as part of the A Game By Its Cover Jam 2018.
https://itch.io/jam/a-game-by-its-cover-2018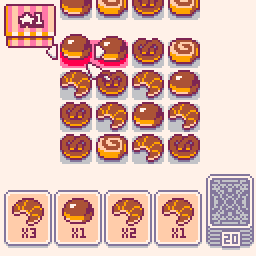 How to Play
Dpad (Arrow keys) - Move Cursor
X Button (X or M or V) - Confirm. Serve pastry.
O Button (Z or N or C) - Cancel. Turn cursor.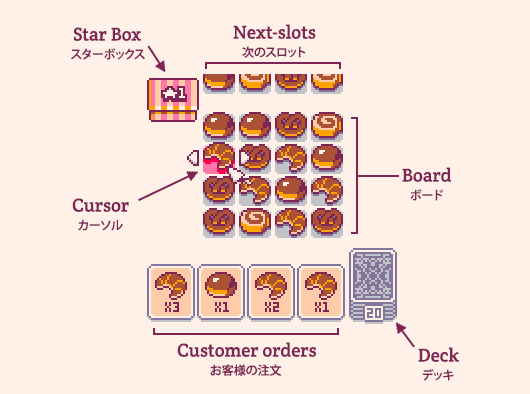 The 4 cards at the bottom of the screen represent the orders of the customers. Our task is to find and select a line of pastries on the board that matches one of the cards. We can select vertical or horizontal lines. But it needs to be an uniterrupted line of the same pastry.

We can only serve lines of pastries that perfectly match one of the cards. Some orders are easy to satisfy - like the x1 oders. Others may require some setup - like the x3 orders.
If we ever get stuck, we can look into the magical Star Box to activate special powers. Special powers cost stars. We can gain more stars by aligning 4 of the same pastry in a row.
We lose the game if we get stuck and run out of stars. But if we manage to serve all of the order cards in the deck, we win!
Some Background
This game was created as part of the A Game By Its Cover Jam 2018. The goal was to create a game based on of the cartridge covers from the Famicase Exhibition 2018. The cover to Mai-Chan's Sweet Buns was created by Louis Lloyd-Judson.
https://twitter.com/Louistrations
He's the artist of the webcomic Apricot Cookies.
https://apricotcookies.net/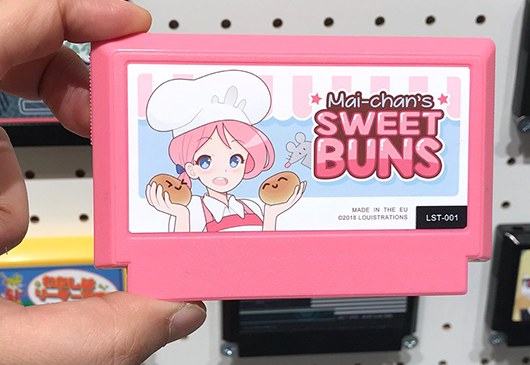 I've livestreamed the entire process here. It seems like it took around 100 hours.
The entire playlist is here:
https://www.youtube.com/playlist?list=PLea8cjCua_P1taIqeYv6mKVdIfIZLFZGK
The music was made by my friend Sebastian Haßler
https://twitter.com/sebashas