Hiragana / Katakana Quiz
7/28/2017 - Bugfix; a typo prevented 'fu' from being drawn since the points had been stored as 'hu'.
Now ふ would make a silly 'fu' like that, huh? み, of course!
7/27/2017 - So this is a quick update.. I was going to use something similar to this as an example for the vector animation tool I just finished up. So I started drawing some graphics using that:

BUT... since I made that thing with tris and prims in mind and not 'drawing thick lines'.. it's a little tedious to use for kana :p
..So I made something a little different instead..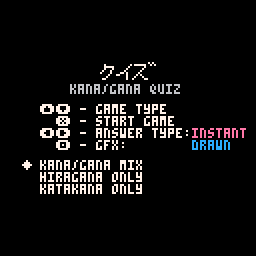 So yeah, no real new features. I still plan on coming back to this eventually. But for now, just some (optional) prettier (or at least more legible??) graphics.
5/23/2017 - I meant to add this a while ago but got distracted with figuring out how to fix an issue with the pocketChip. Now that that issue is resolved, I wanted to give some attention to this project, and soo...
There is now a delay between selecting an answer and moving on to the next question

(The delay for wrong answers is slightly longer)

Correct answers are now outlined in green. Incorrect answers are outlined in red. If you pick an incorrect answer, then the outline for the correct answer will flash a bit.
'Instant' is now the default control type since it should be, because it's just plain better. (And a /lot/ more convenient for use on the pocketChip.)
12/13/2016
[EDIT: Version 1.1 added, which fixes a couple of bugs in the initial release. It also adds an 'instant' directional input method.
Big thanks to ~firefly~ and qbicfeet for catching those issues / suggesting the new input method!]
Hiragana/Katakana quiz
--Font is based on several jp games for gameboy (they're pretty uniform, but esp Dragon Quest and Pocket Love) adjusted to have everything fit into 8x8. There are a few that aren't that great, sooooo feel free to send better character art!
--Todo:
--Some sort of 'correct' / 'fail' visual effect
--Future modes/options:
Marathon - Each character appears only once (all/g/k)
Time-attack (with a limited number of allowed misses)
Targeted order/learning (adjust order based on what you've been missing)
JLPT5 Kanji (using sprites for radicals?)