First frog in space
In a freak space ship accident a lonely frog crashlands on a mysterious planet. Can you help him back into space?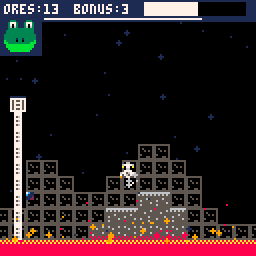 This is a lunar-landing type of game mixed with some mining a la minecraft. You need to control your ship while gathering ores to maintain fuel,shield and to go to next level!
-Controls-
Move with arrow keys
Gather ores with Z
Smash rocks with X
I had some help from my friend Karl Nilhén(KSne), he created the music and the sounds!
Stay Awesome!
Updates
1.1 Added some more sounds!
/Elastiskalinjen