Desert Lead 3D
Take aim, fire and score! It's Desert Lead 3D!
Spread the desert with the dented and shattered remains of bottles and cans. It's like recycling, but more destructive.
For use with the Pico Light Gun, Desert Lead 3D is also compatible with the Pico Mouse.
(Pico Light Gun is only available in selected dimensions.)
Click at the bottom of the screen to reload.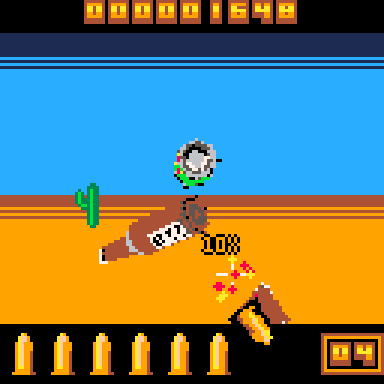 Notes:
Sound effects could use some love. Anyone have a good shot and "plink" sound?
Affine texture mapped 3D isn't perfect, but it does create the appropriate effect.
Scoring system may be a bit glitched right now.
Credits:
Thanks Felice for the sound and cross hair improvements.
-Electric Gryphon